Miami Boat Rental
Since 2015

Best Boating Location in Miami! Marina is near to restaurants, Miami River, Islands & Sand Bars. Ship-store on site (ice, snacks, beverages)
Customer satisfaction and safety is our priority throughout your boat rental experience in Miami. Thank you and welcome onboard!
Our Bayliner Elements are an excellent choice for a Miami Bay ride! The evolutionary Bayliner Element combines a familiar automotive-style handling and class-leading stability plus safety features.

It has the power and comfort to get you to amazing locations so you can enjoy every minute in the Miami Bay waters. Captain provides experienced area briefing and operational safety instruction tutorial prior to departure. Will also share many boating tips for the area as well.
Up to 8 passengers or 1200lbs
Up to 8 passengers or 1200lbs
Up to 8 passengers or 1200lbs
Up to 8 passengers or 1200lbs
Up to 8 passengers or 1200lbs
Up to 8 passengers or 1200lbs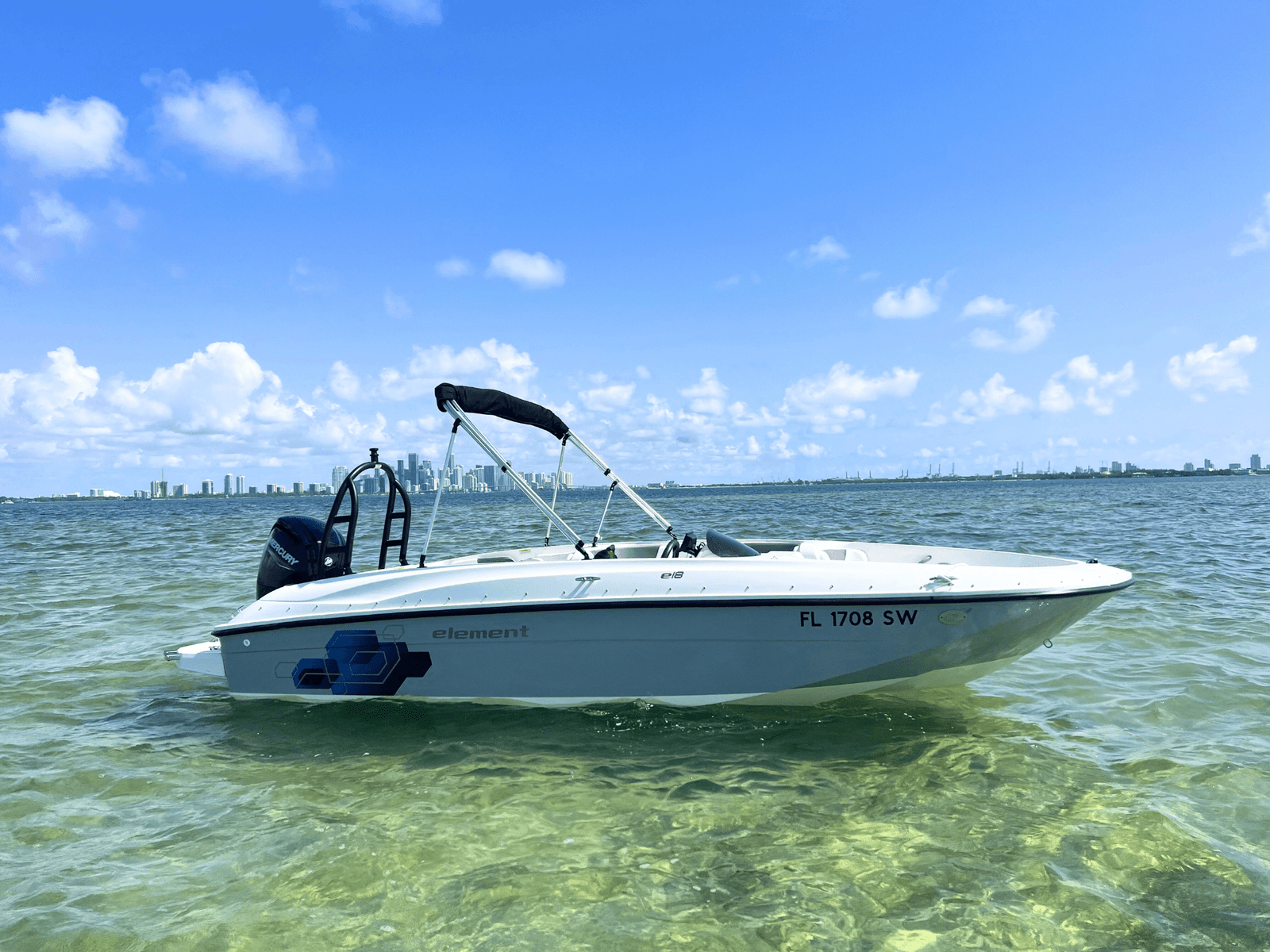 Up to 8 passengers or 1200lbs
Up to 8 passengers or 1200lbs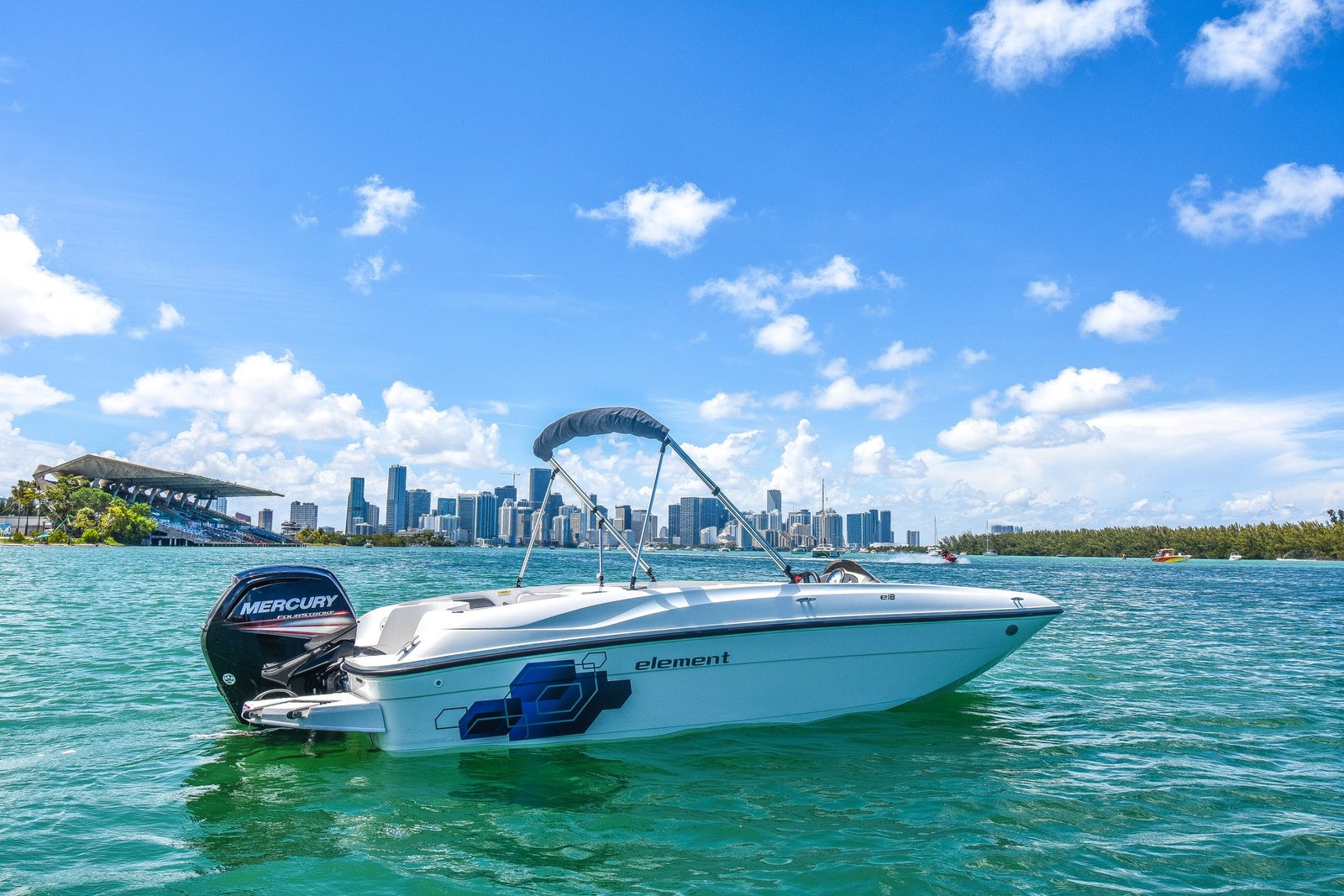 Up to 8 passengers or 1200lbs
Up to 8 passengers or 1200lbs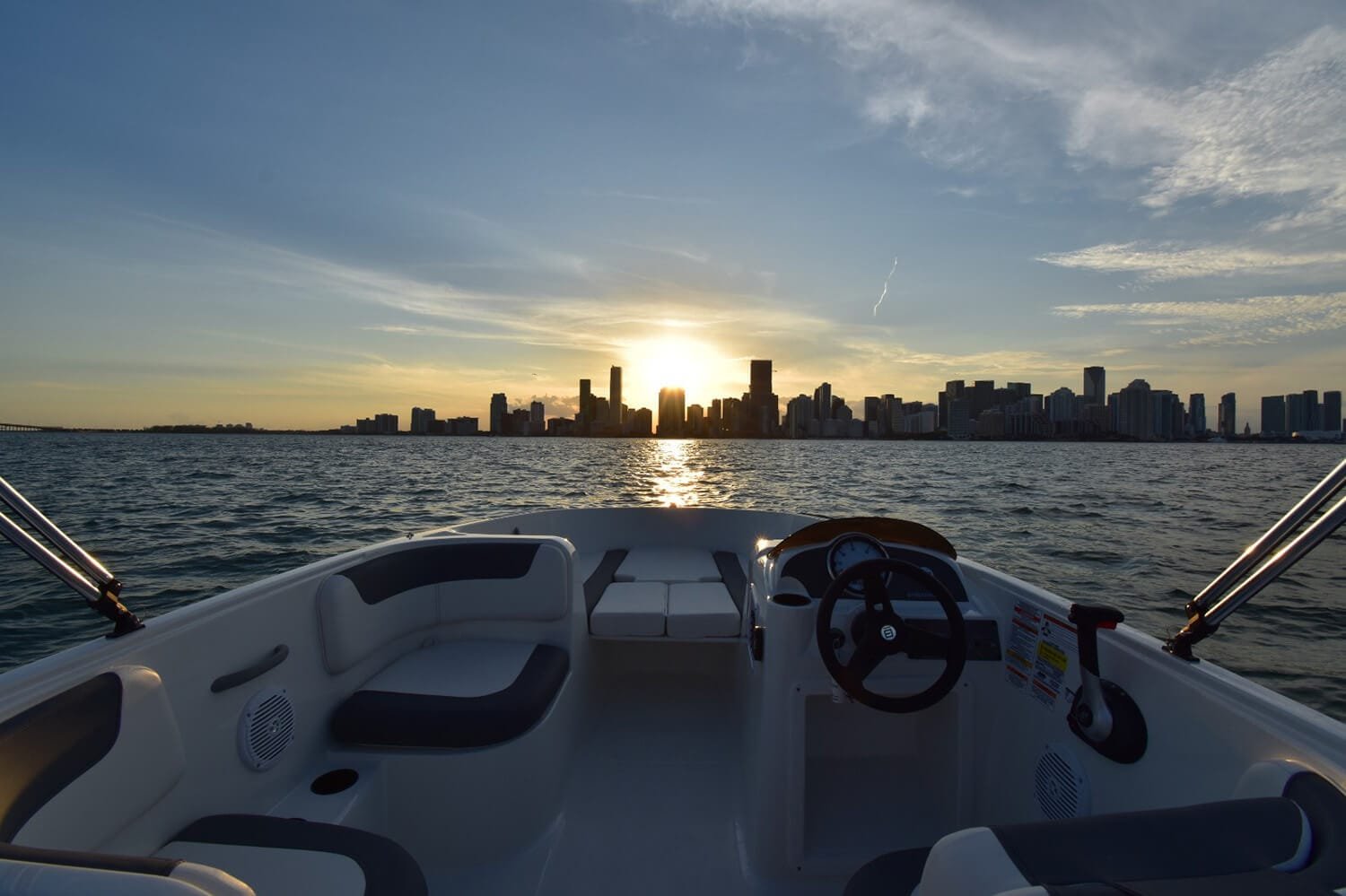 Up to 5 passengers or 800lbs
Up to 5 passengers or 800lbs
April L.
Jiri accommodated our family after being cancelled with another boat owner. It worked out in our favor… not only was the location to launch more pristine and Heavenly but the boat met out needs perfectly. Girls lounged in the front, those needing shade were sitting comfortably under canopy, and my husband and I were able to lounge in the back. The channels with the restaurants and high rises were gorgeous and the close up views of the yachts was mind boggling !!Thank you Jiri for sharing your boat with our party of 7. We will definitely contact you next time we are back in the Miami area. We have been doing to Ft. Myers area for over 17 years but recently fell in love with the Atlantic side. I am so glad we got to experience Key Biscayne ♥️🌴☀️🚤🏝
Chris A.
We had a great time! The boats were clean, Jiri was very helpful and recommended some nice sightseeing routes. He kept an open line of communication throughout our trip in case we had any questions. We'll definitely be back!
James D.
Jiri was great! We had an amazing four hours on the water. The boat was perfect. It was a great way to see the celebrity homes on Star, Palm and Hibiscus Island. Also, the Miami River or a sandbar. We tossed the anchor over and spent some time at Monument Island. The island has a nice sand beach. We will definitely be renting again next time we are in town.
Steph F.
Renting from Jiri was GREAT! He was very ATTENTIVE and very easy to reach with questions or concerns. His boat was SUPER CLEAN. We had a GREAT TIME! Definitely looking forward to booking with him again. 5 STAR EXPERIENCE!!
Yoly F.
I had an amazing experience, Jiri made everything perfect For my birthday celebration 🎉 thanks so much. Will be definitely using them again 😊 the captain serge was very experienced and patient, took us everywhere we wanted to go. I felt secure since he had over 20 years experienced. Serge managed the wind and rough waves very professionally. Thanks everyone again.
Heather B.
We had the best boat rental experience! Renting was easy and our host had excellent communication before and during our trip. The boat was super clean and in excellent condition. Our host was also very acomodating when we needed to keep the boat a little longer. We would definitely rent from here again.
Frequently Asked Questions
How old do you need to be to rent?
What if I have no boating experience?
We will provide a brief operational tutorial, a map, and will explain the area plus local tips in the pre rental instructions on site.
Where is the pick up....?
The boat is located in Rickenbacker marina, on the water and ready to go!
Rickenbacker Marina
3301 Rickenbacker Causeway
Miami,FL 33149
Please do not forget to bring with you a fully charged mobile phone and your ID
Can we bring alcohol on the boat?
Yes, alcohol is allowed but driver can NOT drink alcohol! Do not drive under the influence. Please do not take any glass cups or glass bottles.
Fuel price is $35 per quarter of the tank upon return of the vessel.
(Fuel Included For Captained Tours)
Do I need to pay security DEPOSIT?
A $500 security deposit hold will be placed on your credit card on site before your booking starts to cover any incidental damage that may occur during your rental. This hold is released after the booking is complete, if no claims are made (boat is returned in same condition, on time and no damage) and may take 3-5 business days to reflect on your account depending on your financial institution.
You have to bring water, fully charged cell phone and credit card for security deposit authorization.
You can wear swimsuits, bring a towel and sun lotion (please bring one that does not leave stains on upholstery and helm, it's very hard to clean and we might charge you for extra cleaning)
How old do you need to be to operate a vessel?
Florida boating law:
A person who was born on or after January 1st, 1988, must have completed Florida boating safety course approved by the National Association of State Boating Law Administrators (NASBLA) or passed an approved equivalency exam to operate a vessel powered by a motor of 10 horsepower or greater (including PWCs)
Renter is responsible to prove that driver passed the test PRIOR to departure. Not having the boating safety completed will lead to cancelation with no refund.
If you were born before Jan. 1, 1988, you just need a valid ID.
Take a quick online course here:
https://boattests101.com/united-states/florida/florida-rental?mcid=_42pI2JY
Some people can do it in 30min…test yourself and you can learn something about boating!